THE PHYSICAL THERAPY CLINIC DESIGN BLUEPRINT FOR SUCCESS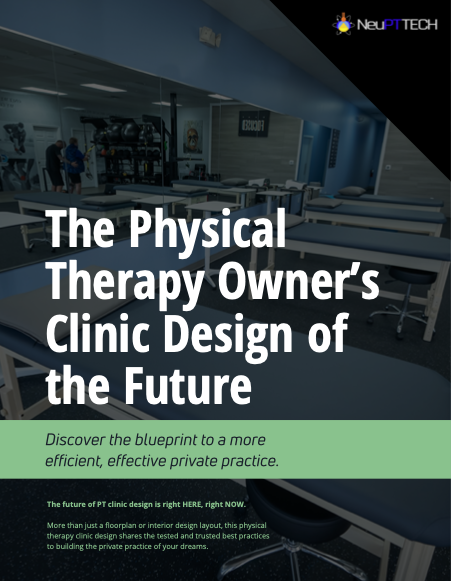 The future of PT clinic design is right HERE, right NOW.
Whether you are building out a practice startup or you're expanding the design layout of an existing clinic, we have compiled the best practices and essential tech suite that the modern physical therapy clinic needs to best serve your patient while differentiating from the competition.
INCLUDED IN OUR PT CLINIC DESIGN GUIDE:
Tested, trusted best practices for physical therapy clinic design
How to economize startup design and get creative
3D clinic layouts for 1,200 square feet and 2,500 square feet
What cash-based equipment and optimal health services to include
How to retrofit a tech suite into your existing clinic design
ADD ROCKET FUEL TO YOUR BUSINESS WITH A FREE PRACTICE ASSESSMENT WITH OUR CLINIC DESIGN EXPERTS:
Trust NeuPTtech to Bring Out the Best TECH in Your Business
FREQUENTLY ASKED QUESTIONS ABOUT NEUBIE
Get answers to all of your NEUBIE questions from the experts at NeuPTtech, the number one distributor of the NEUBIE for physical therapists in the US.
OPTIMAL HEALTH SERVICES TO INCLUDE IN YOUR PRACTICE
NeuPTtech has created the model for the future of physical therapy clinics and cash-based services. It is now available to private practice owners everywhere.
NEUBIE VIRTUAL TRAINING COURSES
Staff onboarding, buy-in and proficiency is fast and easy. Your practitioners go from "comfortable" to "expert" very quickly with this virtual NEUBIE training.