NEUBIE Device Therapy
The NEUBIE (Neuro-Bio-Electric Stimulator) is an innovative approach to e-stim therapy that gives private practice owners a competitive advantage by identifying and treating the neurological functions of patients so they heal faster, recover faster and return to pre-injury functionality faster!
---
Add a massive differentiator to your practice with these benefits:
Maintain or increase ROM

Increase local blood circulation

Prevent atrophy, reducing spasms

Prevent Deep Vein Thrombosis after surgery

Manage or relieve of chronic pain

Manage post-surgical & post-traumatic acute pain
What is the NEUBIE Device?
The most advanced e-stim therapy ever introduced to the physical therapy market, the NEUBIE challenges traditional methods to assess the root cause of muscle dysfunction and optimize neurological function.
Why Physical Therapists Should Add the NEUBIE to Their Practice
It is THE device proven to add incredible cash-pay revenue to your clinic

It provides a considerable differentiator from your competition

It delivers impressive ROI results right away

It's easy to train your staff quickly to become experts

Patients typically see results after just the first session

Happy patients go on to become a key referral source
Everything You Need to Get Started with the NEUBIE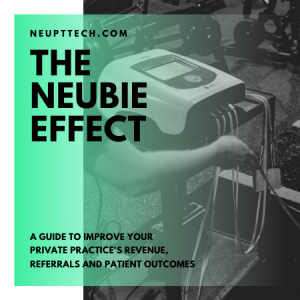 Discover the benefits & statistics that reveal the impact, ROI and stories of the PT Owners who use the NEUBIE.
---
Learn How

NEUBIE Electrical Stimulation Works
---
The NEUBIE is unlike any electrical stimulation device you or your patients have ever experienced. NeuPTtech often refers to it as a "'limitless pill" for your neuromuscular system. The NEUBIE is a proprietary Pulsed Direct Current Device that is not a modality, but more accurately, an entire system that has the power to identify areas of the body where there is a disconnect between the nervous system and muscles with 100% accuracy. There is also strong evidence that the NEUBIE can reset the autonomic nervous system, resulting in breakthroughs in pain and dysfunction in ways that traditional treatment methods cannot.