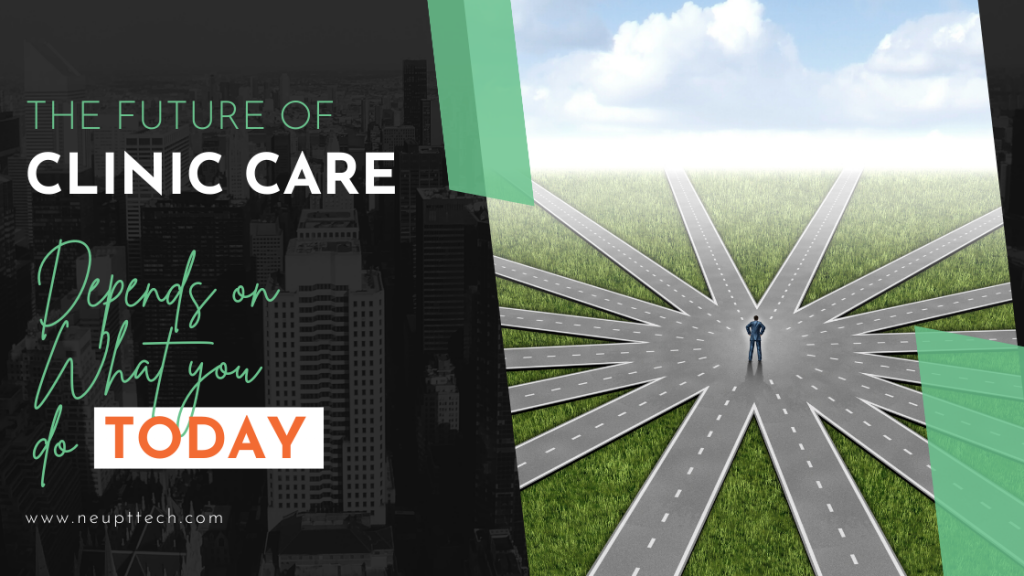 The Future of Clinic Care Depends On What You Do Today
I reconnected with a friend from PT school recently, and he shared a compelling study from the Inpatient Rehab Facility perspective which posited that the future of healthcare was dependent on the value that providers can deliver through next-generation business models.
This 2021 McKinsey and Company report noted that healthcare players (like physical therapy clinics) who stay innovative and adaptive will continue to generate optimal patient and facility outcomes and stay ahead of shifting industry trends.
This falls in step with what NeuPTtech and the partners we've aligned with over the past few years have been saying – what we have made our mission even. By prioritizing innovation and quality of care for your patients, you will create a massive differentiator for your practice and deliver better, faster patient outcomes.
The last couple years have presented unique challenges to the industry, ranging from what care is needed, where the care is provided to how the care is paid or reimbursed. Traditional health care delivery facilities, from private clinics to hospitals, have struggled to keep pace in what has become an increasingly technology-focused industry.
Alternatively, the owners and executives who have remained vigilant to implement operational and environmental efficiencies within their organization (while still investing in the state-of-the-art services and equipment that deliver optimal treatment results) have shown patients that their health and recovery remains paramount in your practice's priorities.
The Proactive Challenge in Front of Healthcare Providers:
Leaders in physical therapy and across the entire healthcare industry should not be content to simply survive in their market, instead, they must be dedicated to an innovative approach that puts them alongside others in the industry who are working to reshape how physical therapy clinics operate and are perceived while revolutionizing how care is delivered.
McKinsey and Company report that the business models seeing success here are focused on better integration of care systems with a diligent use of data and advanced analytics.
The ROI to Expect for the Practice and the Patients
McKinsey and Company go on to explain that this forward-thinking doesn't just deliver good karma, but also a quality return on investment, for you and the patient. They have found that many healthcare systems leveraging innovative technologies have been able to "lower costs, enhance coordination, and improve patient experience while maintaining or enhancing the quality of the services provided."
In that way, "the opportunity for incumbents who can reimagine their business models and new entrants is substantial." Regarding the competition: "The ability to innovate at scale and with speed is expected to be a differentiator."
The Opportunity in Front of the Physical Therapy Industry
Known by many names, post-COVID conditions are plaguing 1 in 5 adult COVID survivors according to the latest study from the CDC and are creating a wide range of ongoing health problems that can last for weeks, months or even years.
There is very little data on Long COVID and, with symptoms that are irregular and can flare up unexpectedly, it remains a novel problem with doctors and healthcare professionals unsure how to treat or what to do with patients. Often patients can be told there is nothing wrong with them because it is not a physical trait that traditional care can treat. For a suffering patient, this mental and physical toll can be enormous.
Future-thinking therapists are treating patients with an evidence-based approach that utilizes the right tools to get better insights into the patient's state of optimal health so they can develop the right plan of care.
When patients know you have the right tools to treat them, they become more comfortable talking to their therapist about their condition, symptoms, challenges, etc. which helps a mindful clinician access the right tools to treat this current state in real-time. In doing so, we begin to treat not just their physical state, but also their psychological well being by delivering hope.
The Technology is Already Here; The Industry Must Catch Up
NeuPTtech has been researching and testing the very same innovative technologies that this study alludes to and many physical therapy owners are already seeing the effects it can have on their patient population. Still, many are still struggling to make the leap.
To repeat ourselves, never before in our decades as care providers has there been the technology available to treat patients from the inside out like we can do now with this optimal health technology that has very specific, proprietary uses for the novel challenges facing our practices and patients:
The NEUBIE: As a new approach to e-stim therapy, this neuromuscular reeducation device will pinpoint the root cause of any muscle dysfunction and work quickly to optimize any neurological functions so patients can recover faster and return to pre-injury functionality faster. There is also a preponderance of clinical evidence that shows specific interventions with this technology have a positive impact on the autonomic nervous system.
Heart Rate Variability: Like a secret weapon for therapists trying to understand how a patient is feeling before or after treatment, this non-invasive diagnostic tool will assess the patient's nervous system and use biofeedback to understand their current wellness and recovery capacity. It essentially gives the patient and the provider very specific and sensitive baseline metrics that can show why a long COVID patient is feeling like they do (when other scans and lab results may come back normal).
Clean Air Technology: ActivePure Technology cleanses patients from head to toe when they enter your facility. All bacteria, pathogens and viruses are eliminated from air and surfaces instantly, keeping your staff and patients safe from COVID-19 and other viruses.
Is Your Practice Keeping Pace with Current Shifts in Care and Technology?
We want to help you continue to create value in this shifting healthcare world.
Are you setting yourself up to succeed?
Does your business model offer the approach and resources necessary to differentiate from a traditional practice?
Are you wired for speed and performance when it comes to patient care?
Are your services relevant to the broader market for innovation and adaptive for current and future patient needs?
Have you aligned with the right partners to access this innovation?
Contact the NeuPTtech team to build your own Clinic of the Future so you deliver the best optimal health services for your patients and stand out from the competition.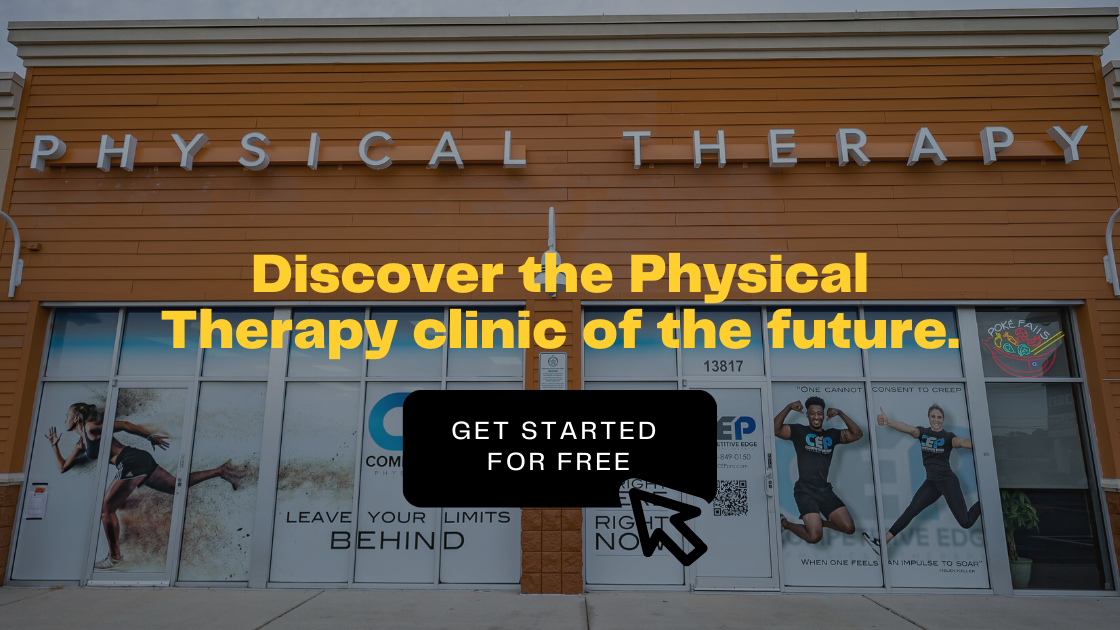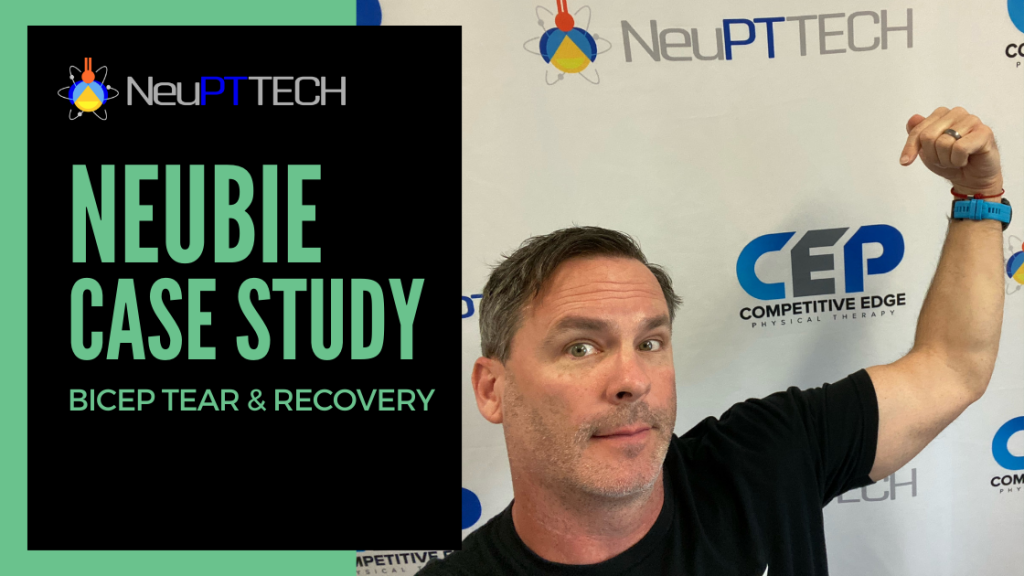 Previous Post


NEUBIE Case Study: Recovering from a Bicep Tear in 5 Weeks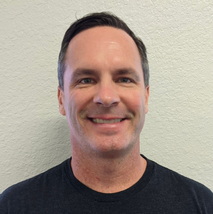 Jason Waz
Jason is the founder of NeuPTtech and a private practice owner and PT in Tampa, FL. Alongside running NeuPTtech, the leading NEUBIE distributor and authority on physical therapy technology, Jason has developed proprietary training and support for NeuFit's NEUBIE device that is designed to help PT owners and clinicians easily bring this technology into their practice. His mission to bring the field of physical therapy into the next generation through science, research and innovation starts with the NEUBIE. Throughout the last few years, Jason and his research and development team at Competitive Edge Performance Physical Therapy have helped develop new systems and protocols for physical therapy technology including HRV, PEMF, Aerus, Torque Fitness and more!