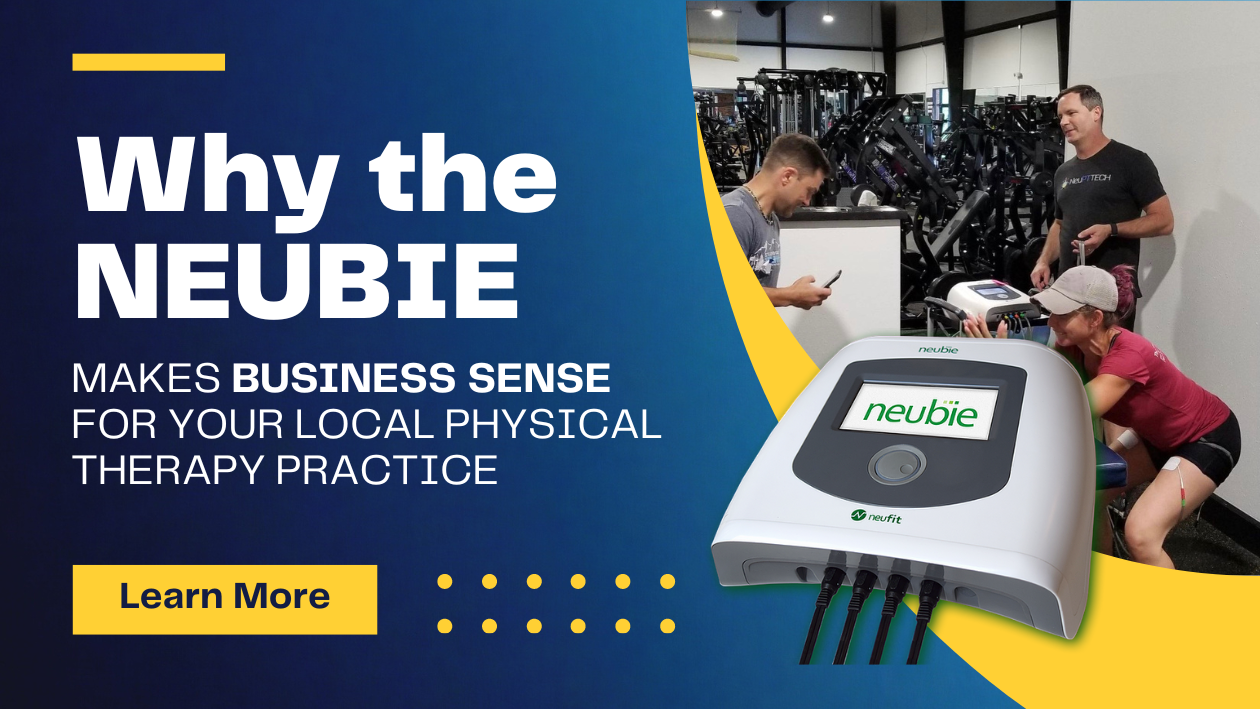 NEUBIE Makes Business Sense for Your Local Physical Therapy Practice
As the world of healthcare continues to evolve and incorporate new technologies, physical therapists have the opportunity to stand out and provide exceptional care by offering NEUBIE electrical stimulation services at their practice.
It's worth noting that when adding any new technology to your practice and choosing to invest in the future growth of your business, you should look for any or all of these benefits to come along side it:
It should be able to be utilized by at least 80% of your patients

It should be proven to deliver positive results quickly and effectively

It should be easy to train, onboard and support your practitioners on the new tech
The NEUBIE checks all of these boxes and has been proven to produce positive results in 90% of patients within the first four sessions - and, it includes virtual training and support for practitioners plus a year's worth of NEUBIE and business coaching for FREE in the first year of purchase for owners!
As Jason Waz, PT has repeated time and time again: ​​
"In my 25+ years as a PT, I have never personally come across a device, technique or treatment approach that has had as profound an effect on my patients as the NEUBIE."
How Does the NEUBIE Work?
NEUBIE (Neuro-Bioelectric Stimulation) is a cutting-edge form of electrical stimulation that has shown promising results in the rehabilitation of various injuries and conditions. By incorporating NEUBIE into their treatment plans, physical therapists can not only improve patient outcomes but also increase revenue and grow their business.
NEUBIE uses direct current electrical stimulation to target specific muscles and nerve fibers, allowing for faster and more targeted recovery. It is a unique type of electrical stimulation that can be used in a variety of ways, including for pain management, muscle activation, and injury rehabilitation. What sets NEUBIE apart from other forms of electrical stimulation is its ability to target both deep and superficial tissues simultaneously. This is achieved through a unique waveform that allows for more efficient activation of motor units in the targeted muscles. The NEUBIE device also has the ability to adjust current amplitude and frequency in real-time, making it a versatile tool in the hands of skilled physical therapists.
For physical therapists who have used various forms of electrical stimulation over the years, the NEUBIE is quickly identified as a game-changer for patient care. By delivering better patient results in less time, it helps practice owners grow their business by offering a unique service that sets them apart from other PTs in their area.
The Benefits of NEUBIE Therapy for Patients Include:
Reduce pain and inflammation

Improve muscle strength and activation

Increase range of motion and flexibility

Accelerate healing and recovery time

Improve overall function and performance
Aside from the benefits for patients, offering NEUBIE can also be a lucrative business move for physical therapists. By providing a unique service that sets them apart from other practices, physical therapists can attract new patients and increase revenue. NEUBIE sessions can be priced higher than traditional therapy sessions, which means physical therapists can earn more per session and increase their profitability.
5 Business Advantages for Physical Therapy NEUBIE Services:
Competitive Advantage:

NEUBIE therapy services are a powerful differentiator for your physical therapy practice and will quickly set you apart from competitors who do not offer this innovation. Patients who are looking for the latest and most effective treatments will likely choose a physical therapy practice that offers NEUBIE over one that does not.

Increased Patient Retention:

Patients who receive NEUBIE therapy are more likely to have positive outcomes and experience relief from their pain or discomfort. As a result, they may be more likely to continue coming back for additional treatments or refer friends and family to the practice.

Increased Revenue:

Offering NEUBIE therapy can also be a source of additional revenue for physical therapy practices. Patients may be willing to pay more for this type of advanced therapy, which can increase the practice's overall revenue.

Enhanced Reputation:

Your physical therapy practice can establish itself as a leader in the field and build a strong reputation for providing high-quality care when utilizing the latest physical therapy technology solutions like the NEUBIE. This can lead to more referrals and a broader patient base over time.

Improved Treatment Outcomes:

Finally, the primary advantage of offering NEUBIE therapy is the ability to improve treatment outcomes for patients in as little as 1-4 sessions typically. This can lead to better patient satisfaction, faster healing times and an overall more positive experience for patients who break through their limitations.
The NEUBIE Fast Forwards Business Results and ROI
When Jason Waz first introduced the NEUBIE into his Competitive Edge Performance Physical Therapy clinic in Tampa, Florida he saw these results. In the first year, he experienced a 71% increase in overall visits by adding the NEUBIE. This included a 30% increase in referrals in just the first quarter of adding the NEUBIE. There was an additional 22% increase in visits the following year.
What did that do to CEP's revenue? In the first year, there was a 91% increase in total revenue and a 500% increase in over-the-counter private pay collections. The NEUBIE also helped increase net revenue per visit by $14. There was an additional total revenue increase of 20-25% in years two and three!
The NEUBIE Brings a Niche Audience to Your Practice
While it is a powerful solution for patients of all ages and conditions, the NEUBIE device is ideal for patients with a neuromuscular dysfunction like Multiple Sclerosis, Parkinson's, etc. because it can address the underlying neurological dysfunction that is often associated with conditions such as chronic pain, muscle weakness and limited mobility. By stimulating the nervous system in a targeted and specific way, the NEUBIE device can help to "re-educate" the nerves and muscles to work more efficiently and effectively.
Additionally, the NEUBIE device is unique in that it is able to provide a high level of stimulation without causing discomfort or pain for the patient. This is because the device uses a specific waveform that is designed to work with the body's natural electrical signals, rather than against them. As a result, patients are able to tolerate the stimulation better, and are more likely to adhere to their treatment plan over the long term and recommend the service to friends and family suffering from similar ailments and looking for relief..
Improving Patient Outcomes Improves Business Outcomes
Incorporating NEUBIE electrical stimulation services into your physical therapy practice can lead to improved patient outcomes, increased revenue and rapid growth of the business. The unique business and clinical benefits of NEUBIE make it an obviously valuable tool to use in most treatment plans.
As more patients become aware of the benefits of NEUBIE, physical therapy owners who offer this service will be able to distinguish themselves from competitors and position themselves for long-term success in their community.
Don't wait until your competition offers NEUBIE services, contact NeuPTtech today to add this powerful differentiator to your business! As about our NEUBIE rental services!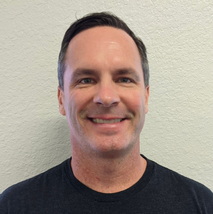 Jason Waz
Jason is the founder of NeuPTtech and a private practice owner and PT in Tampa, FL. Alongside running NeuPTtech, the leading NEUBIE distributor and authority on physical therapy technology, Jason has developed proprietary training and support for NeuFit's NEUBIE device that is designed to help PT owners and clinicians easily bring this technology into their practice. His mission to bring the field of physical therapy into the next generation through science, research and innovation starts with the NEUBIE. Throughout the last few years, Jason and his research and development team at Competitive Edge Performance Physical Therapy have helped develop new systems and protocols for physical therapy technology including HRV, PEMF, Aerus, Torque Fitness and more!